Land Of The Northern Lights to Iceland
Magellan Sails From London Tilbury
Sunday 4th March, 2018
An amazing display of purple, blue, pink and green light dancing across the dark sky of night, the spectacular Aurora Borealis is one of nature's greatest wonders. This voyage takes you to Iceland, the 'Land of Fire & Ice' where, if atmospheric conditions are right, you have the chance to witness the incredible Northern Lights. The Faroe, Shetland and Orkney Islands are fascinating stepping stones on this spectacular voyage.
Cruise Highlights
Surrounded by green slopes and mountains, Saksun is one of the most idyllic villages in the Faroes with its traditional turf-roofed cottages.
Visit a remote site, away from Reykjavik's light pollution, where you will have the best opportunity to search for the Aurora Borealis.
For the adventurous, maybe try a glacier discovery by snow truck, a 4x4 drive across the amazing landscape, or a snow-mobiling experience.
Wander through the narrow, flagstone streets of Lerwick and learn about its history, heritage and culture at the award winning Shetland Museum.
On Orkney, step back 5,000 years and explore the impressive Neolithic settlement of Skara Brae, one of the best preserved groups of prehistoric houses in Western Europe.
Itinerary
Cat.
Description
Full Fare
Saver
1st Person
Saver
2nd Person
IG
Voyager Inside Guarantee

£1679
£1179
£589
1
Standard Twin Inner

£1739
£1219
£609
2
Standard Plus Twin Inner

£1919
£1349
£674
3
Superior Twin Inner

£2159
£1519
£759
4
Premium Twin Inner

£2279
£1599
£799
OG
Voyager Outside Guarantee

£2329
£1609
£804
6
Standard Twin Ocean View

£2399
£1679
£839
7
Standard Twin Ocean View

£2459
£1729
£864
8
Standard Twin Plus Ocean View

£2579
£1809
£904
9
Superior Twin Ocean View

£2879
£2019
£1009
11
Superior Plus Twin Ocean View

£3119
£2189
£1094
12
Premium Twin Ocean View

£3359
£2359
£1179
JS
Junior Suite

£5399
£3779
£1889
DS
Deluxe Suite

£5999
£4199
£2099
RS
Royal Suite

£6599
£4619
£2309
Single Cabins
5
Superior Single Inner

£2699
£1419
N/A
7S
Standard Single Ocean View

£3079
£1619
N/A
8S
Standard Plus Single Ocean View

£3229
£1699
N/A
10
Superior Single Ocean View

£3599
£1889
N/A

3rd/4th person sharing - £359
Travel insurance from - £36
Port parking - £132
Deposit per person - £200
Magellan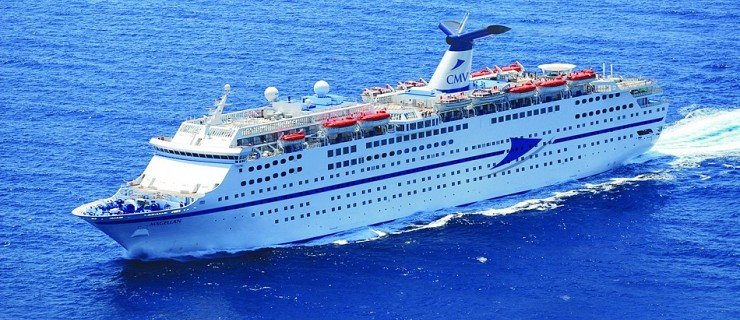 Magellan is the proud new flagship of the CMV fleet and like Marco Polo and Azores operates as an adult friendly ship. At 46,052grt she will carry about 1250 passengers accommodated in 726 cabins spanning nine passenger decks serviced by eight lifts. Her wide corridors and stairways and expansive deck areas with wood type decking in many areas exude a real feeling of spaciousness with a wide range of comfortable well appointed lounges and panoramic seating and observation areas ideally suited to our scenic cruise programme.

Magellan boasts a spacious interior, with wide corridors and expansive wooden deck areas providing comfortable surroundings for guests. However, the ship still provides an intimate atmosphere, with a huge range of leisure facilities, including bars and lounges, as well as multiple dining options.

Combining expansive, comfortable surroundings and friendly service with stylish entertainment and delicious cuisine, Magellan is the perfect choice for those looking for a greater range of on board facilities. However, she still retains a feel of intimacy and personal attention when compared with the 'mega' resort style ships built today. No climbing walls or ice-skating rinks and no kids!

Exclusively for adults

For the enjoyment of our adult passengers, Magellan cruises operate as 'child free'. This means that even during school holiday times you can enjoy the pleasures of cruising in the company of adult passengers only. We will however accept teenagers who are 16 years old or above at the time of sailing but they must be accompanied by adult passengers.
RESERVATION ENQUIRIES
Please fill out the form below and we will get back to you as soon as possible.
What's Included

Delicious full board cuisine. 
Afternoon teas and late night snacks. 
Captain's Cocktail Party (cruises of 6 nights or more). 
Self service tea & coffee (6am to 10pm). 
Big show entertainment, cabarets and classical interludes. 
Daytime activities and leisure facilities. 
Guest speaker and arts & crafts (cruises of 5 nights or more). 
Porterage of luggage, port to cabin. 
Port Taxes.